Drilling companies and mechanics are always operating different types of tools and machines, which need proper attention. Training and education on these tools can be extremely helpful for companies and their reputation. Rackers Equipment and Furukawa Rock Drill provide a training seminar every year.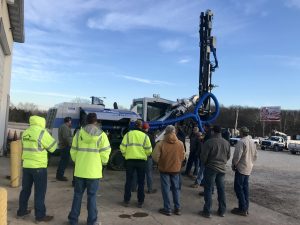 The Benefits of Training
For your company, the greatest benefit coming out of this three-day comprehensive training seminar is education and experience. Your employees will come out knowing what to do during a troubleshoot or maintenance routine.
You will learn:
Basic Repairs
Hammer Seals
Schematics
This educational program at the Furukawa Drill School in Jefferson City will help your employees and company by reducing the down time and increase productivity with your work. When your tools and machines malfunction or need troubleshooting on the job, it's beneficial to have every one of your employees know how to fix the issue, so you're not wasting time and money on the job.
Here are some testimonials from our students:
"This was a good program. Rackers Equipment Company was a good place to learn the workings of the drills. I haven't been around drills much and I learned a lot." – Eric Chevalier, Boone Quarries, Wichita, Kansas
"I thought this class was great. I learned a lot about Tier II and Tier III machines. I would recommend this class to anyone who has one of these drills." – Isaac Miller, Norris Quarries,Wichita, Kansas.
Rackers Equipment Company
At Rackers Equipment Company, we offer new and used equipment for the heavy highway, construction, mining and the aggregate industry. We also buy new and used equipment if you're in the market to sell. We have plenty of mechanics and drillers that have benefitted greatly form our training seminar every year. Contact us at 573-635-8700 to get more information about our training seminar.