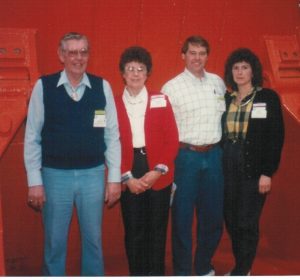 Gary and his father, the late Leo Rackers, started Rackers Equipment Company in 1989 selling nothing but used equipment from an old farmhouse. Leo worked in the Aggregate and Mining Industry for 40 years. He worked for Machinery, Inc. for 17 years in St. Louis, MO and sold industrial supplies for AE Boggs. In 1978, he formed his first partnership at Metro Equipment Company. In 1981 he became co- owner of Continental Equipment Co. In 1989 he formed a new partnership with his son, Gary Rackers at Rackers Equipment Company where he continued selling equipment until his retirement in 2000. Leo Rackers passed away on September 24, 2003: he was 74.
We now work out of our two building facility, including an office, shop, parts room and a 5 acre lot. We still sell used equipment, but have taken on over a dozen lines of new equipment. We strive to do anything we can to help our customers achieve their goals. With over 35 years of experience in the construction and aggregate industry, we will help you with all your equipment needs. We have salesmen strategically located throughout the Midwest. They are always looking for new or used equipment to broker and sell.
**The image on the homepage in the box above the "About Us" link shows Gary receiving an award for outstanding sales volume, service support, and product dedication. It was the 2014 Summit Award presented by Furukawa Rock Drill USA.
– Rackers Equipment Company