A breaker hammer is used mainly for mounting on skid steers, excavators, backhoes, and stationary plants. When working on a job site, a breaker hammer attached to your machinery is beneficial for your employees because it helps make the job much easier. The mount is able to break up larger rocks and concrete structures into smaller pieces for more manageable pieces.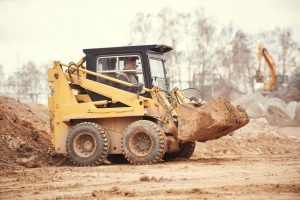 The Benefits of Having One
Contractors love having breaker hammers for their skid steers and excavators because they can take a beating, but they also give a beating. Whatever the job is, making the work easier and more efficient is one of the main goals for a crew, and having this piece of construction equipment is extremely important.
Break concrete, asphalt, rock, and other materials
Turn your equipment into a demolition machine
Contain efficiency on the job
Be more productive and finish jobs quicker
Stay on schedule
At Rackers Equipment Company, we can offer you BTI Breakers for your heavy equipment needs. Being able to improve your workflow on the job site is your number one priority, and we want to help companies in the mining and aggregate sector continue to produce good work for the world.
Why Should I Get a Hammer Breaker for My Skid Steer or Excavator?
Having access to heavy machinery on the job is a benefit in itself because you can maneuver much easier on a site, as well as transport heavier loads. Being able to attach a hammer breaker will allow you to manage those heavier loads with much more ease, and your heavy equipment will go through less stress, which will ultimately preserve the life of your machines.
Here at Rackers Equipment Company, we have the equipment to help you with your application. Check out our selection of new and used mining and aggregate equipment and contact us at 573-635-8700 to find out more!