Traditionally, construction season slows down during the winter, but if you have spring projects you may be preparing for, these tips for maintaining your construction equipment during the cooler months will be beneficial to you.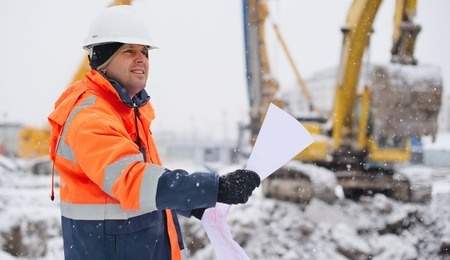 Battery
If your construction equipment goes unused for a long period of time, you will need to properly store the battery away from frigid temperatures. To prevent the battery from draining in the cold temperatures, you should test its current first before storing it inside.
Tires and Fuel
These are two components on your machinery that should be checked frequently, especially before temperatures begin to drop. During the winter months, you should check the air pressure of your tires and look for signs of wear and tear. Tires tend to deflate quicker in colder temperatures, so you may want to consider using track-mounted equipment versus tire-mounted equipment.
Oil and Coolant
Oil in your construction equipment should be changed before and after the winter months. The temperature of your oil must match the temperatures outside for your equipment to work properly. To do this, don't wait until the oil flows from the machine after it has been turned on; simply use a low viscosity oil that will flow with less resistance.
As for coolant, an ideal ratio to stick to is 50/50 coolant to water, but in cooler weather it is suggested that you try using a 70/30 ratio of coolant to water. This will prevent the water from freezing.
Rackers Equipment Company has all of the equipment you need for your upcoming construction projects. Call us at 573-635-8700 today or shop our equipment inventory online.