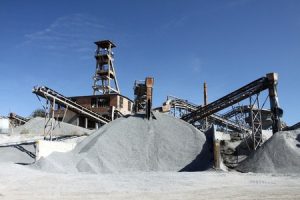 In March of this year, major flooding along the Missouri River blew out levees, knocked out bridges and washed out roads and highways, causing significant damage to farms and rural communities throughout Missouri and neighboring states. According to the Missouri Department of Transportation, the flooding did more than $29 million in damage to roads and bridges alone.
Now, as the state begins to rebuild its damaged infrastructure, Missouri's quarries are supporting flood recovery efforts throughout the region.
Many local quarries are experiencing an increase in demand for rock and aggregate material, which is being used for emergency repairs to railroads, bridges, highways, levees and river infrastructure.
Summer is already a busy time for the quarries. Ron Hook, Buchanan County's western district commissioner, said that his district puts down between 80 and 100 tons of gravel each week just for regular maintenance during the summer. Recovery efforts put demand even higher—Hook says he has six to seven damaged miles of road in his district.
Although rock is not usually a component of levee construction, the Corps of Engineers will also use 600,000 tons of rock this summer to make emergency levee repairs.
Missouri currently has 350 limestone mining sites ready to meet demand.
Although it's been a busy season for Missouri quarries, they have been affected by the flooding, too. Some quarry sites were damaged during March's flooding, which reduced the quarries' capacity to transport heavy loads on rail lines or barges.
At Rackers Equipment Company, we're proud to support the mining and aggregate industries in our area by providing the new and used equipment they need to tackle tough jobs throughout Missouri and beyond. To learn more, feel free to give us a call at (573) 635-8700 or contact us online today.