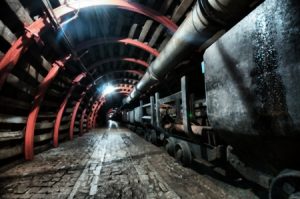 This month, researchers at Missouri S&T who study mining and explosives engineering began using a cannon to test concrete mine seals. Their work could help improve seal design and keep miners safe while on the job.
The research involves loading a cannon with projectiles, which they then shoot at the seals to test the resulting impact. The projectiles are things that a miner might leave behind in a tunnel, like hard hats, hand tools, roof plates, chunks of steel and water jugs. Some of the projectiles had significant impact—the hand tools dislodged a chunk of concrete, for example, and the roof plates gouged the seal
The researchers used a regular camera and two Go-Pros to record the results of the cannon firing projectiles at the seals. They then slowed down the videos to study them.
While seals are currently rated to withstand certain pressure levels, this is the first time that they have been tested for projectile impact, which can occur when explosions happen in sealed-off mine sections. The researchers hope to learn whether projectiles can damage the seals enough to make them fail at the pressures they are rated for. Seal designers could adjust their designs based on the results, to improve the seals' ability to withstand projectile impacts.
When one explosion happens, there is a significant chance that another is on the way, putting miners' safety in jeopardy. A fractured seal could leak methane from sealed areas, putting miners in active mining zones at risk.
The researchers anticipate that the testing will be complete by the end of 2019, and their research will conclude by April 2020.
If you're in the mining industry in the Jefferson City area, visit Rackers Equipment Company to find new and used mining and aggregate equipment at highly-competitive prices. Call (573) 635-8700 or contact us online today to learn more.