A forklift is one of the most convenient construction machines on the planet. The best part about having access to a forklift while on a construction job is that no matter how small or large the project is, a forklift plays a major role in getting the job done with efficiency and accuracy.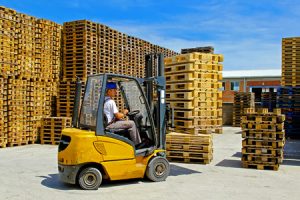 Here are some of the many benefits to having forklift access:
Safety and Convenience – While working with large equipment and products on a construction job, a forklift can act as the weight-carrier. This provides safety and prevents employee injuries when trying to lift heavy equipment or products. Instead of using all of your energy and time, using a forklift will help with the progression of a project.
Lifting and Loading – Forklifts specialize in lifting heavy loads and maneuvering in tight, narrow areas on the job.
Finishing the Job – In many areas of construction or hard labor, a forklift can be beneficial. For example, if you're a landscaper building a flagstone patio, having access to a forklift will allow you to carry the pallet of flagstone off and on the truck for easy moving. Ultimately, your patio builds will move quickly and more efficiently allowing you to finish the job early or on time.
Renting or Buying Forklifts
Renting or buying a forklift is ultimately up to you and your business. One thing to consider when looking to benefit from a forklift's capabilities is how often will you need or use one for particular projects. If you have larger contracting jobs, buying a forklift may help. If you only have a few large construction jobs per year, then renting a forklift will be okay.
Look no further for your construction and mining equipment. At Rackers Equipment Company, we provide reliable cranes, forklifts, and manlifts in Missouri. No matter how big or small the job is, you will benefit from our machines for the construction, mining, and aggregate industries. Contact Rackers Equipment Company at 573-635-8700 today!