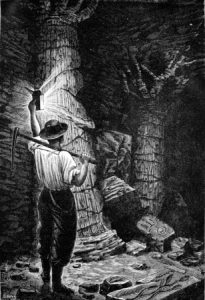 Lead mining has been an important part of Missouri's history for more than three centuries, and this weekend the community of Viburnum will celebrate this rich heritage during the 32nd annual Old Miners' Days festival. Hosted in conjunction with the Doe Run Company, this three-day festival includes a mining equipment exhibition, musical performances, a parade, car show and more.
For many attendees, the highlight of Old Miners' Days is the opportunity to take a tour of an active mine.
"Each year, we invite visitors to go roughly 1,250 feet underground to see a working lead mine," said Steve Batts of The Doe Run Company in a recent press release. "Doe Run is one of the largest employers in Viburnum, and we enjoy showing our family, friends and neighbors what it's like to be a lead miner underground."
This year, Old Miners' Days will kick off on Friday, October 5 at the Elmer P. Beard Gymnasium and continue through Sunday afternoon. For a complete lineup of events, you can view the festival's full schedule here. To get a sneak preview of everything the festival has to offer, check out this Old Miners' Days photo gallery which features images that date back as far as the early 1990s.
Whether you're interested in our region's mining history or you're just looking for a fun fall festival to attend, Old Miners' Days is sure to be a great weekend destination for the whole family. Just keep in mind that children must be at least 12 years old to take part in the mine tour.