Having a piece of equipment break down or completely fall apart in the middle of a project can really set you back. To replace it, you could go out and purchase a brand-new machine or you might be able to find one used. The problem is if they both will do the same thing, so you'll have to weigh your options as to which one is better for your operation in the long term?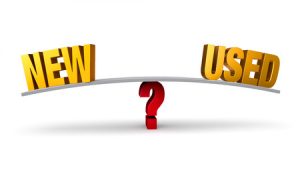 Benefits of Investing in New Equipment
If you were to purchase a used piece of equipment, chances are you would save some money. When you buy used equipment though, there is always a chance that it may not last as long as a brand-new machine. It more than likely has already seen several years of use and has some miles and operational hours already, which means it probably won't operate as if it were brand new.
Now on the other hand, if you need the equipment to last for a long time or are concerned about it breaking down and like the safety of a warranty, then buying new is probably the way to go. New equipment often comes backed with guarantees from the manufacturer that cover repairs or replacements if there are mechanical failures or breakdowns under certain conditions. Buying a used unit, on the other hand, is a one-time purchase in as-is condition. If you have a failure with used machines, you'll be the one footing the bill.
Benefits of Going with Used Equipment
Buying used can also provide a benefit, however, in familiarity. Brand new and modern machines often have new features and capabilities, but if your workforce isn't trained on how to use it, you could be facing delays as your crew gets up to speed on the new devices. Plus, if you have additional attachments or peripheral machinery that's designed to work with one unit, it may not be compatible with new machines, meaning that you could need to invest in additional replacements down the line.
Think Realistically with Replacing Your Equipment
If you've been struggling to keep your fuel costs under control or having enough power for your drilling rig, choosing a newer model might offer you the improved efficiency or capacity you need to get the job done more effectively. In turn, this can save you money in the long run as you are able to complete jobs faster and with less expense on labor and fuel.
No matter what kind of equipment you need, Rackers Equipment has used and new options to meet your needs. Our equipment catalog features a full range of new and used equipment at great prices to make sure you get what you need to keep working. For more information, call us today at 573-635-8700!