In the world of mining and aggregate operations, having the right equipment is vital for contractors to achieve efficiency, productivity, and safety. With the plethora of options available in the market, it can be challenging for contractors to determine the essential machinery they need to succeed in their projects.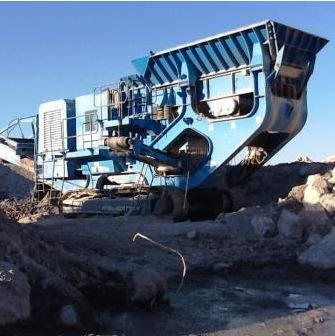 Robust Jaw Crushers
A robust jaw crusher is a cornerstone in any mining or aggregate operation. These machines excel at breaking down large, sturdy materials into smaller, manageable sizes, making them ideal for primary crushing tasks. Contractors should look for jaw crushers with adjustable settings to control the size of the output material, ensuring optimal production and flexibility for various applications.
Versatile Cone Crushers
Cone crushers are essential for secondary and tertiary crushing stages in mining and aggregate projects. Their versatility allows contractors to produce various end products, such as aggregates for construction or finely crushed materials for road paving. Look for cone crushers with advanced features like hydraulic adjustment systems for precise control over the final product size.
Efficient Impact Crushers
Impact crushers play a crucial role in the mining and aggregate industry, particularly for shaping and fine-tuning materials. These machines use rapid impact forces to crush and shape materials efficiently. Contractors should consider impact crushers with adjustable aprons and rotor configurations to achieve the desired product shape and size.
High-Performance Screeners
Screeners are essential for separating and classifying materials based on size and specifications. High-performance screeners efficiently separate aggregates, allowing contractors to produce multiple products simultaneously. Look for screeners with various deck configurations, adjustable angles, and robust construction to withstand the demands of heavy-duty applications.
Reliable Conveyors
Conveyors are the backbone of efficient material handling in mining and aggregate operations. Contractors should invest in reliable conveyors that can transport materials across long distances and challenging terrains. Consider conveyor systems with adjustable incline angles, dust covers, and self-cleaning mechanisms to ensure smooth and continuous operations.
Durable Loaders
Loaders are indispensable for efficiently moving and loading materials onto trucks or crushers. Contractors should opt for durable loaders with adequate lifting capacities, ergonomic controls, and excellent maneuverability. This equipment is essential for maintaining a steady workflow and optimizing productivity on-site.
Powerful Excavators
Excavators are versatile machines that contractors can use for a variety of tasks, from digging and trenching to demolition and material handling. Powerful excavators with advanced hydraulic systems and multiple attachments provide contractors with the flexibility they need to tackle diverse projects effectively.
Sturdy Drills and Blasting Equipment
In mining operations, drilling, and blasting are often the initial steps to extract valuable materials from the earth. Contractors should invest in sturdy drilling equipment with precision control and high drilling rates to minimize downtime and enhance productivity.
Looking for mining and aggregate equipment? Check out Rackers Equipment Company's inventory for what you need. Contact Rackers Equipment Company at 573-635-8700 today or visit us online for more information!