Construction is a difficult and demanding profession, and so much of the world is dependent on it. After all, who could do business if we didn't have offices? Where would we live if we didn't have homes?
If you are thinking about working in the construction business, there are a few things that you can typically expect in any given job.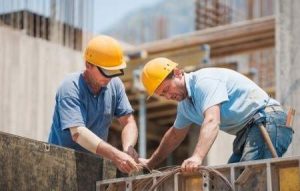 Variety of Work
One aspect that you will notice with any construction company you work for is that you will be completing all kinds of different projects. One day you could be installing a bathroom, and the next day you could be fixing a roof. There is always something to learn and the variety will likely prevent you from getting bored which people who work in routine professions often struggle with.
Make Good Money
Construction work might not seem glamorous, but once you get your feet wet, then you can really start to make some good money. The reason that construction work is on the rise is because there is always something to build, and infrastructure is changing, which means that the construction industry will be continuing to grow.
Have the Proper Equipment
Another thing that you can expect when you start your career in construction is that no matter how prepared you think you are, you're still probably under prepared to some extent. Construction is tough work; be ahead of the curve by always having these necessary things:
You want to have comfortable but dependable shoes because you will be on your feet all day. Make sure they are broken in before you head out to the job. For every job, you will also want to have sunscreen and water in your possession, especially on the hottest days. As you continue working in construction, you will start to accrue more tools. Remember to keep these items within an arm's reach because you never know what tool you'll need next!
Expect a Different Type of Schedule
When you work in construction, you will likely have a schedule that is not a standard "9 to 5" as many people have. You can expect to wake up relatively early in the morning, and you may have to get to the job site before the sun comes up. Plus, many of the jobs are weather dependent. In some cases, such as road construction, you might work at night when the traffic is less frequent. If you want to work in construction, you should be OK with working abnormal hours sometimes.
Once you start your career in construction, get the equipment you need from Rackers Equipment Company. We offer a wide variety of new and used equipment that you can use to make your next project a snap.